COVID-19 Response and Precautions March 15, 2020
To Boys & Girls Clubs of Greater Salt Lake Friends, Parents and Stakeholders:
In response to recent guidance from Governor Herbert we are suspending before and after school programs for school-aged Club members at all locations for two weeks effective Monday, March 16th.
However, following guidance from the Utah Department of Child Care Licensing, full-day preschool services will continue to be offered at the Sugar House and Murray locations with normal operating hours beginning Tuesday, March 17th. We respect the rights of parents and guardians to decide what is best for their children. Therefore, our normal billing procedures will be suspended for parents who choose not to bring their children to preschool during this time.
We will also cancel or reschedule sports leagues and volunteer activities. We are suspending all use of our facilities by outside groups.
During the 2-week suspension, staff will report to work as normal to clean and disinfect facilities and vehicles and to receive training. They will also be available to communicate with parents and community partners.
We understand the significant stress created for the parents of our school-aged Club members due to this decision. In addition to before and after school programs, our Clubs also provide meals and snacks to members daily. In order to alleviate potential food insecurity, we will make pantry and food items available to parents while inventory lasts. Arrangements to pick up food can be made by contacting your local Club. Information will also be posted on social media.
This is a rapidly changing situation. We will continue to monitor guidance from the appropriate sources and provide updates on social media as circumstances evolve. Location-specific information will be updated regularly on the Facebook page for each Club.
We are asking parents to call or email Club leaders to ensure we have accurate contact information for you on record. We also strongly encourage parents to 'opt-in' to group messaging platforms used by your local Club.
As always, the safety and well-being of our Club members, staff and volunteers is our highest priority. Your questions and concerns are welcomed and may be directed to Club leaders or our executive team any time.
Sincerely,
LeAnn Saldivar
President & CEO
We will be monitoring direction from the governor, Utah Department of Health, and CDC regarding this matter. Please watch our Facebook and Instagram pages for updates as the situation evolves.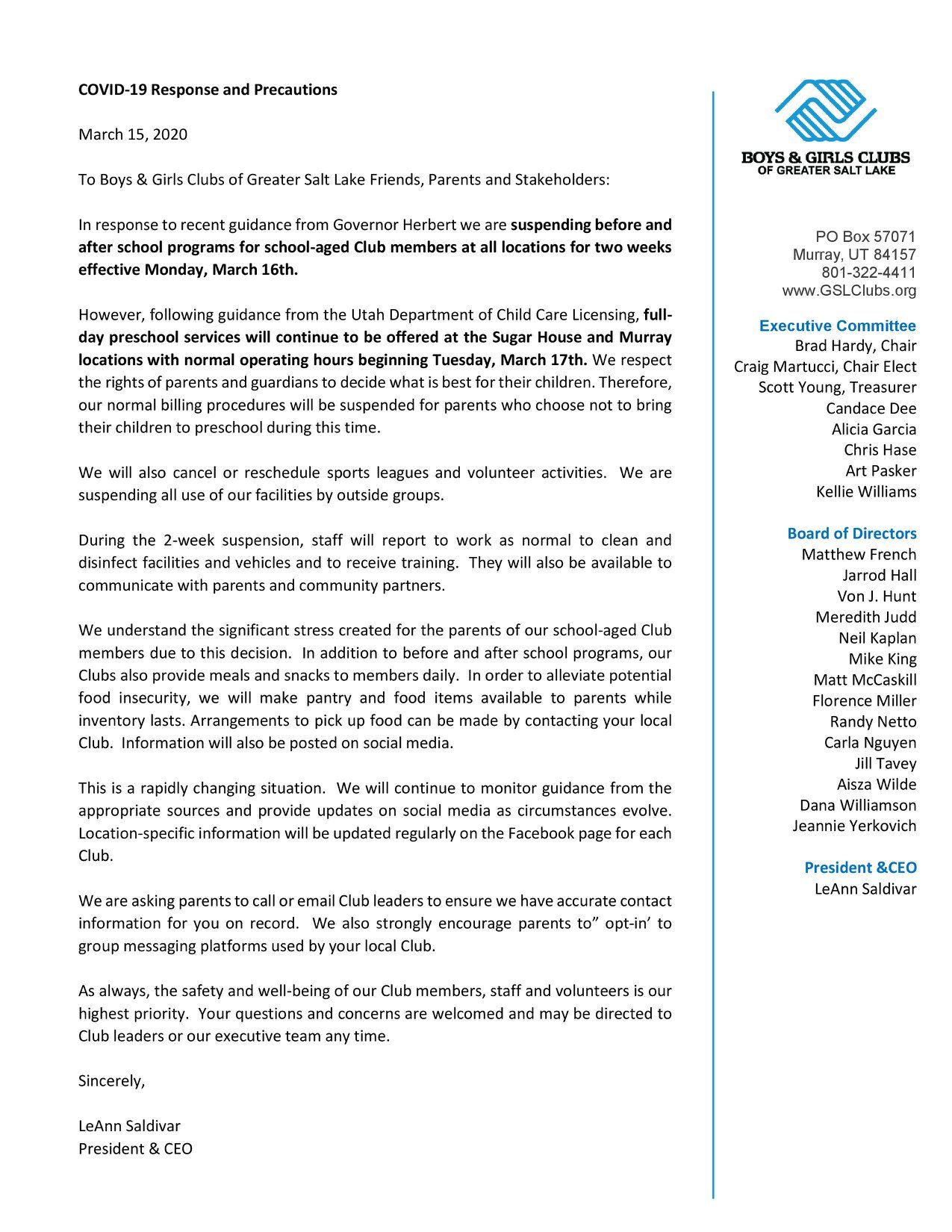 ---
Give the gift of a Great Future
---
How Boys & Girls Clubs Help
Salt Lake's Boys & Girls Clubs help thousands of kids succeed in school, make healthy choices, and become good citizens.
---
How You Can Help
You have the opportunity to help transform thousands of lives by getting involved with your local Boys & Girls Clubs.
---