Copperview Elementary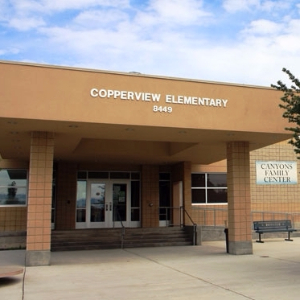 | Program Director | Address | Phone |
| --- | --- | --- |
| Jessica Whittaker jwhittaker@gslclubs.org | 8449 S. 150 W., Midvale, UT 84047 | (801) 322-4411 |
---
For information about registration, please contact Jessica Whittaker, program director, at (801) 322-4411 or jwhittaker@gslclubs.org.
---
After School Program at Copperview Elementary
Boys & Girls Clubs of Greater Salt Lake, in partnership with Caynons School District, offers an after school and summer program at Copperview Elementary for kids in Kindergarten through 5th grade. Programs are available for registered Copperview students only. Our programs help kids:
Succeed in school

Make healthy choices

Stay fit

Avoid drugs and alcohol

Explore careers

Volunteer in their community

Experience leadership opportunities
The Copperview Elementary Club also offers homework help, technology programs, arts, sports, and a changing calendar that meets the needs and interests of Club members.
School Year Hours
Monday through Thursday: 3:20 p.m. - 5:30 p.m.
Friday: 1:40 p.m. - 5:30 p.m.
Healthy snack and dinner is provided for all Club members. Transportation to home provided by Canyons School District.
Summer Hours
Monday through Friday: 9:00 a.m. - 2:00 p.m.
Breakfast and lunch are available for all Club members.
No registration fee required! Contact Jessica Whittaker, Program Director, for more information about registration.
---
For more information about the Copperview Elementary program, email jwhittaker@gslclubs.org, or call 801-322-4411.